Air Atomizing Nozzles use a combination of compressed air and liquid to produce a highly atomized spray pattern at low flow rates. Comprised of a body and associated spray set-up (air cap and fluid cap) – a wide range of spray patterns and flows can be accommodated.
Internal mix set-ups combine air and liquid inside the air cap. In this arrangement, the streams are not independent, meaning changing your air flow will affect your liquid flow. Internal mix set-ups can produce the finest atomization but are not suited for viscous fluids.
External mix set-ups combine the air and liquid outside for the air cap, allowing air and liquid flow rates to be controlled independently. In most cases, external set ups do not atomize as finely but can be used with more viscous fluids.
JJBMX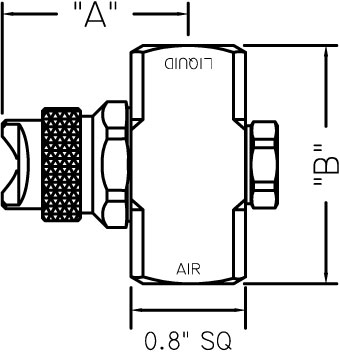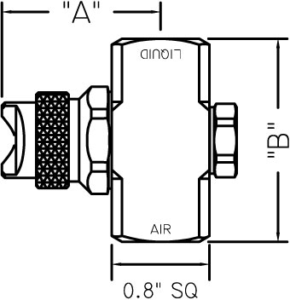 JXJBMX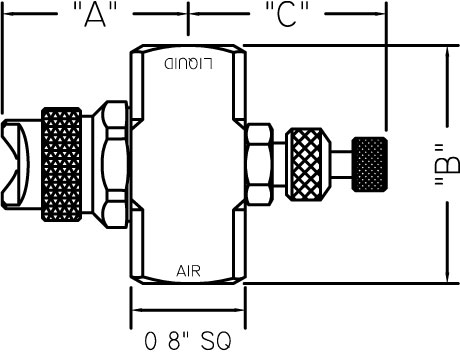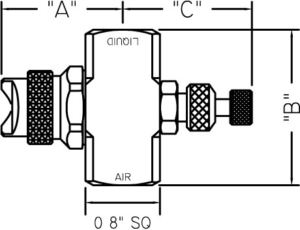 JYJBMX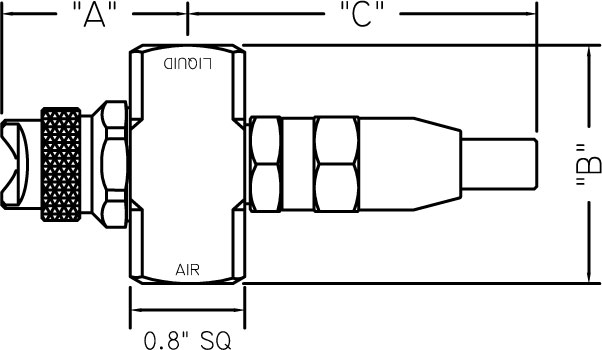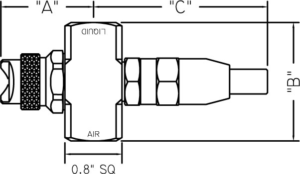 JZJBMX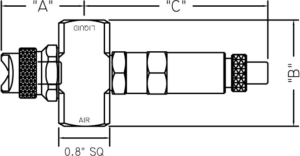 Dimensional Data
| Nozzle Type | Inlet Connection | A | B | C |
| --- | --- | --- | --- | --- |
| JJBMX | 1/8″ | 2″ | 1.69″ | – |
| | 1/4″ | | | |
| JXJBMX | 1/8″ | 2″ | 1.69″ | 1.6″ |
| | 1/4″ | | | |
| JYJBMX | 1/8″ | 2″ | 1.69″ | 2.5″ |
| | 1.4″ | | | |
| JZJBMX | 1/8″ | 2″ | 1.69″ | 3.2″ |
| | 1/4″ | | | |
How to Order
Example : 1/4JSJBMX+F10S
1/4 —> Inlet Connection ( 1/8 = 1/8″ FNTP ; 1/4 = 1/4″ FNPT)
J —> Nozzle Type ( J = Basic Body ; JX = Shut Off Needle ; JY = Clean Out Needle ; JZ = Shut Off Needle with Clean Out)
S —> Body Material ( Blank = Nickel Plated Brass ; S = 303SS ; SX = 316SS)
JBMX —> Nozzle Type
F10 —> Spray Setup